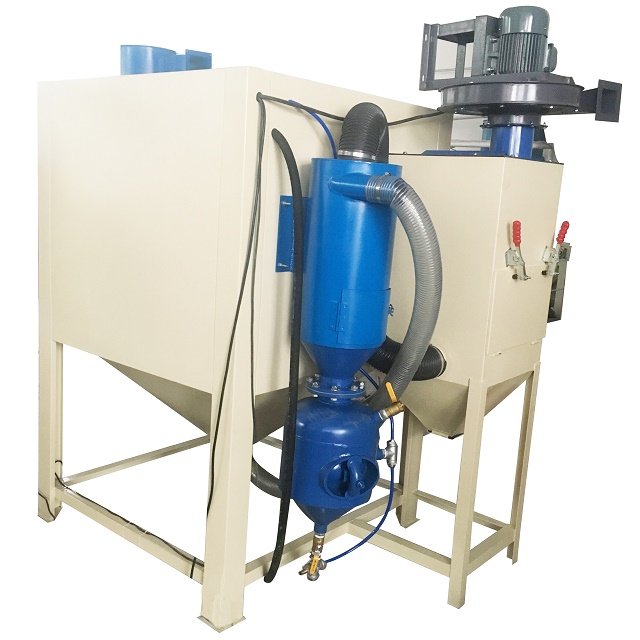 Direct Pressure Blasting Machine with Cyclone Separator
Stone and Marble Blasting Machine.
The pressure blasting machine incorporated a cyclone separator is specially designed for preparing marbles, granite, tiles or other stone materials. As well know the direct pressure cabinets blast media in a much higher velocity and force, explaining why it could do quicker and heavy jobs. The high pressure blast machine operates materials 40% faster than suction blast machine.
Why use a cyclone system for the pressure blasting machine?
The contaminants and rust removed from the marbles and stones are easily mixed with the blast abrasive for continuous cycles, making the working chamber dirt and blurry, thus a separation of dust and abrasive is necessary to clear the blasting view. The cyclone system will vacuum abrasives first and enables the cartridge filter device only collect dust, enhance the recycling of abrasive and reduce cost.
Cyclone Pressure Blasting Machine Features
The blaster is constructed with 2mm thickness rolled-cold plate by welding, powder-coated surface for durability.

A pressurized sandblast gun is controlled by foot pedal to ensure safety, with boron carbide nozzle inside.

Requires dry compressed air entering the machine, adjusted by pressure regulator with gauge to showing the value.

The dust collector is cartridge filter device run by 2.2kw fan motor, an efficient removing of dust and contaminants.

The easy-wearing position of the cyclone separator has flapper for a convenient change after it got strictly wear and tear.

Suggested abrasives for finish stone materials: silicon carbide, corundum, steel girt, stainless steel grit, all with shape edges.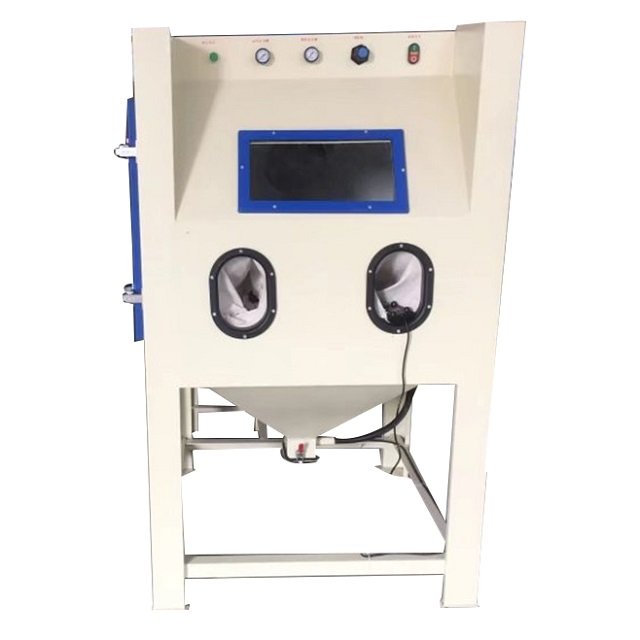 Direct Pressure Blast Cabinet Specifications:
| | |
| --- | --- |
| Model: | CL-1212PC |
| Cabin Size: | 1200(L)×1200(W)×1900(H)mm; |
| Dust Collector Size: | 600(L)×600(W)×1900(H)mm |
| Blast Gun: | 1 Pc, with boron cabide nozzle, dia 8mm |
| Required Air Pressure: | More than 8 Bar |
| Required Air Flow: | 4m3/min |
| Power Supply: | 380V/50HZ, 3Phase, voltage can be made as local. |
| Total Power: | 2.2kw |
| Lighting: | 20w Antiexplosion Lamp |
| Motor for Dust Collector: | 2.2kw |
| Cartridge Filter Spec in Collector: | 1 pc, Dia325xHeight900mm |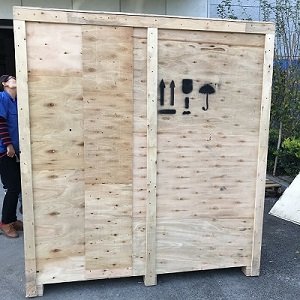 Why Choose Kafan Blasting Equipment?
Kafan is experienced manufacturer offering customer sand blasting machine in a wide applications such assuction blasting cabinet for light finishing, pressure blasting equipment for heavy cleaning or deburring, portable blaster often used in oversized products and outside plants. Automatic blast machines will meet large productivity. Composed with imported main components and high quality material, Kafan ensures 1 year warranty, 24 hour online after-sale service for worldwide clients. We packed the equipments with film and foam first, wooden case outside, safe and reliable for sea shipping.