how to choose grinding and polishing media
Views:8 Author:sally Publish Time: 2017-09-02 Origin:Site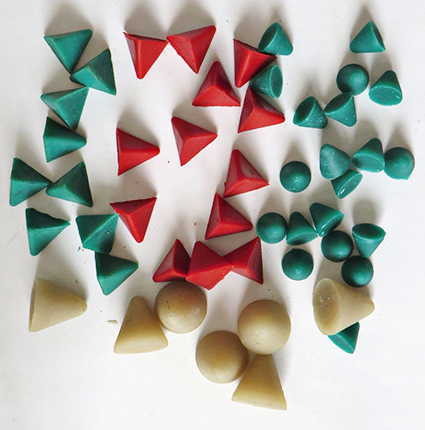 how to choose the grinding and polishing media ?
because each abrasive material, according to the shape, size, there are so many types,
for example: brown corundum (white corundum) material, and shapes there are round, triangular, oblique triangular, oblique cylindrical four shapes, of which the commonly used
round there are 12 different sizes . According to the production practice, most of the product
parts to choose grinding materials can follow the below principles:
1. The size of the abrasive material should not exceed the size of the part
In general, the size of the grinding material to not exceed the size of the parts is appropriate
to avoid the grinding parts of the crush, bruising situation.
2. Do not block the inner or inner diameter of the part
Some parts of the surface with holes or inside diameter, in the choice of grinding materials,
should pay special attention to this situation, to avoid the grinding, the emergence of a large
number of parts of the hole or diameter of the grinding material is blocked, for such parts,
we choose grinding The size of the material should be bigger or smaller than the inner bore (inner diameter).
3. for sorting
The size of the abrasive material is smaller than the size of the part. After the grinding process is
completed, we can use the sorting equipment to easily separate the abrasive material from the part.
If the size of the material is equal, , It will be very time-consuming and laborious.
In addition to the above three principles, we grinding and polishing parts, grinding materials and
processing parts of the proportion between how to match it? Look at the following table
| | |
| --- | --- |
| process | poishing abrasice and workpiece proportion |
| Grinding (that is, to the front, chamfer, remove the burr, rust, coarse grinding) | 1:1 ---- 1.5:1 |
| Fine grinding (the second step after grinding, to improve the smoothness of the surface | 1.5:1 ---- 2:1 |
| polishing | 2:1 ---- 3:1 |